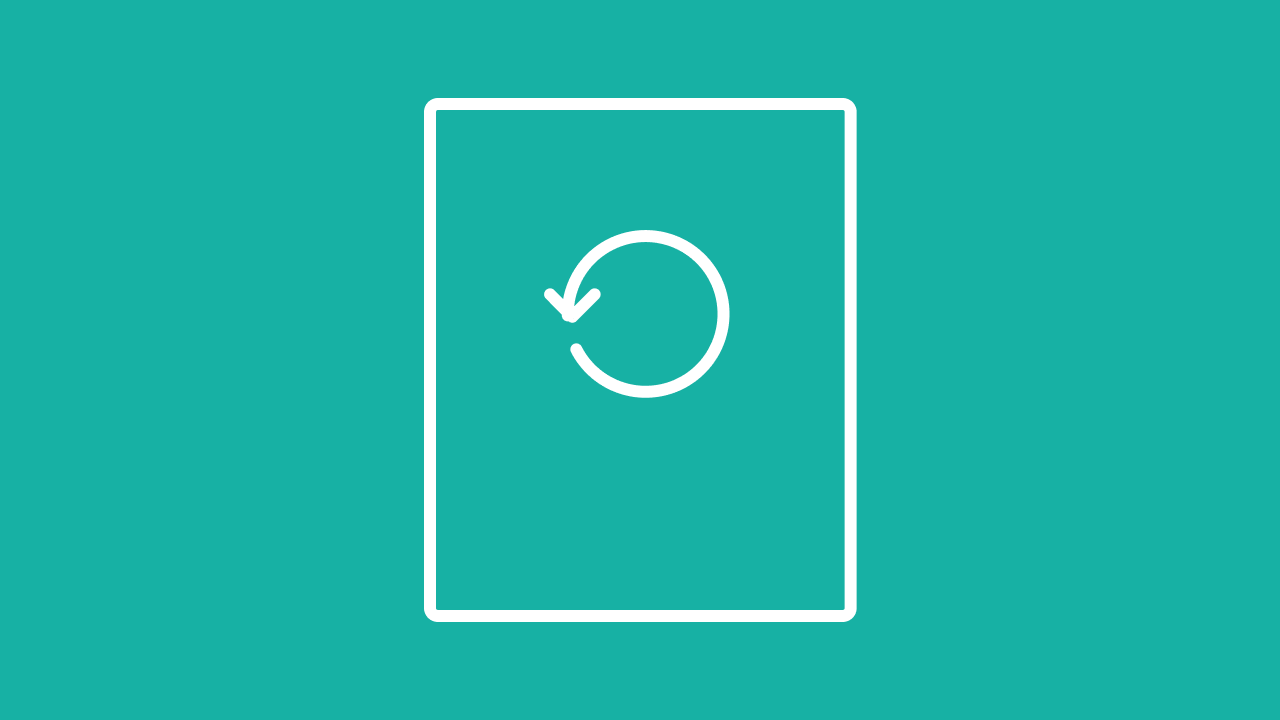 One of the highlights from Odaseva's many expert speaking sessions at Dreamforce 2022 was Backup Large Data Volumes – Michelin's Tips for Architects.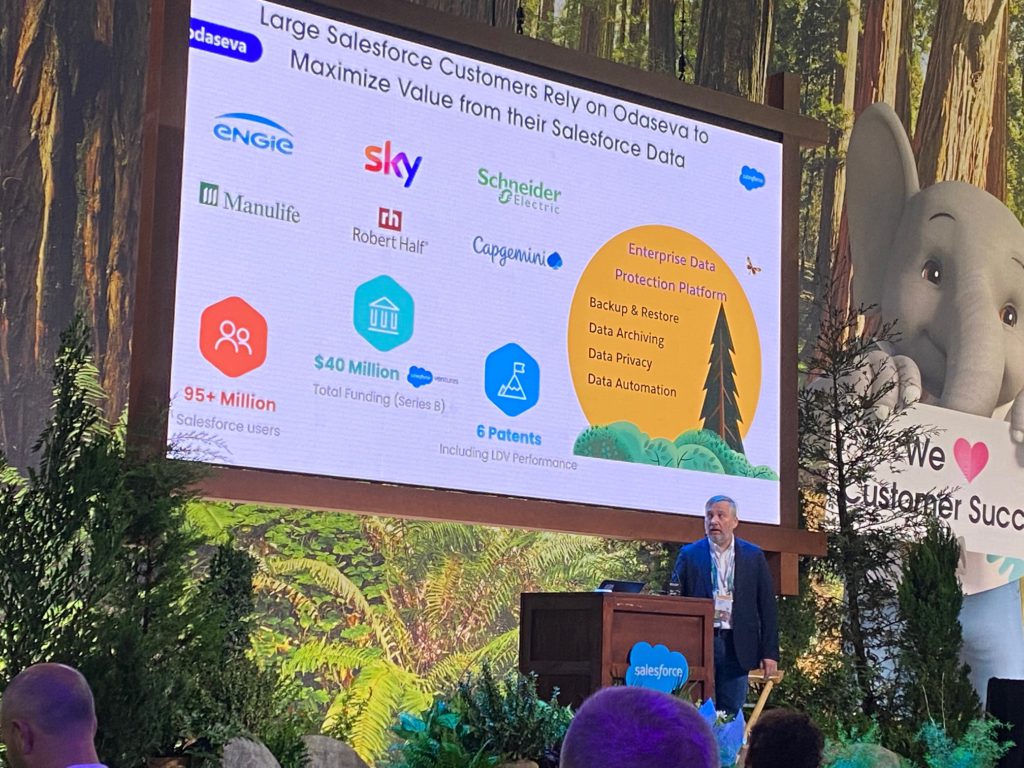 The numerous Backup & Restore challenges that large enterprises face in Large Data Volume (LDV) contexts were discussed during the session by the speakers: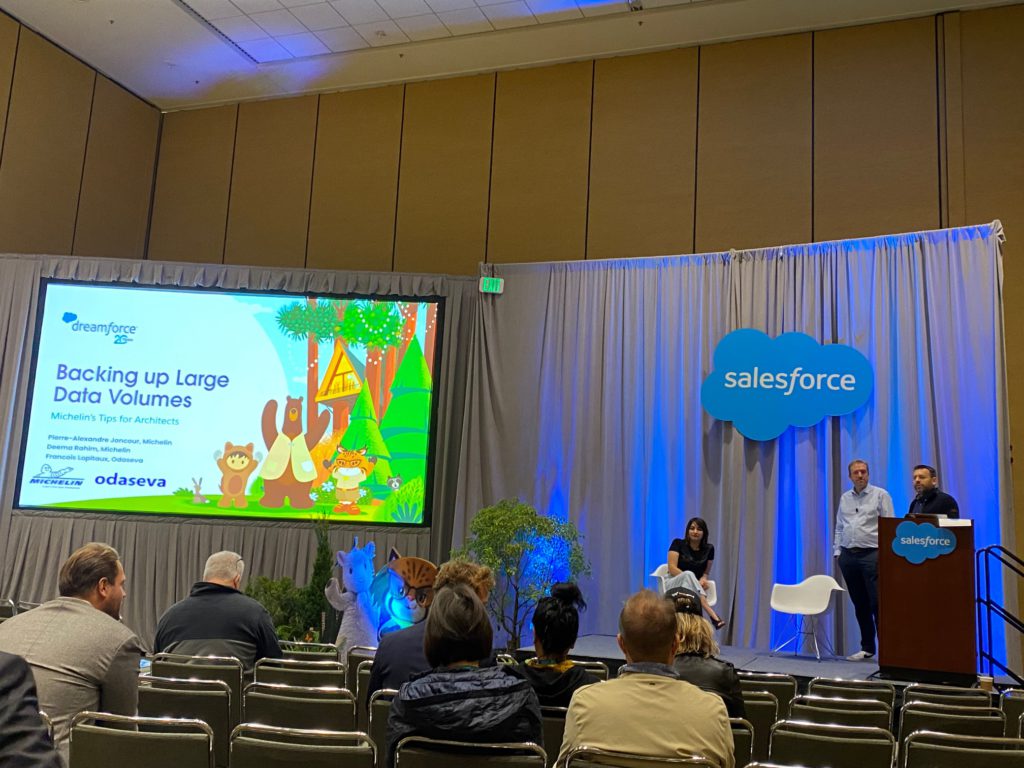 Here is a summary of the session, including key takeaways that organizations working with Salesforce Large Data Volumes must know:
Michelin's journey to protecting Salesforce data
Michelin opened the session by sharing their Salesforce data protection journey.
Michelin, with more than 7,000 employees and 100,000 customers across five continents, has a substantial Salesforce footprint with Sales Cloud, Service Cloud, CRM Analytics, Experience Cloud, and B2B Commerce.
With this ecosystem constantly growing, Michelin had to find a way to manage business continuity and DRP over and above what Salesforce could offer. Michelin partnered with Odaseva for business continuity management and to protect their Salesforce data at scale.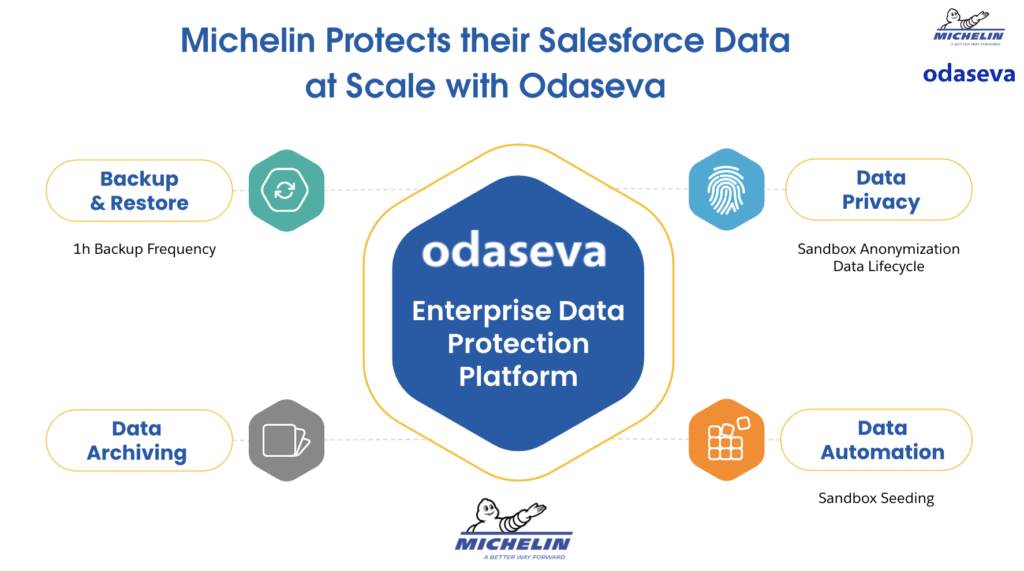 To learn more about LDV Backup and Restore, download our White Paper The Complete Guide to Salesforce Backup & Restore
What are the criteria for Large Data Volumes?
How do you know if you're dealing with Large Data Volumes? Typically if you see the following characteristics: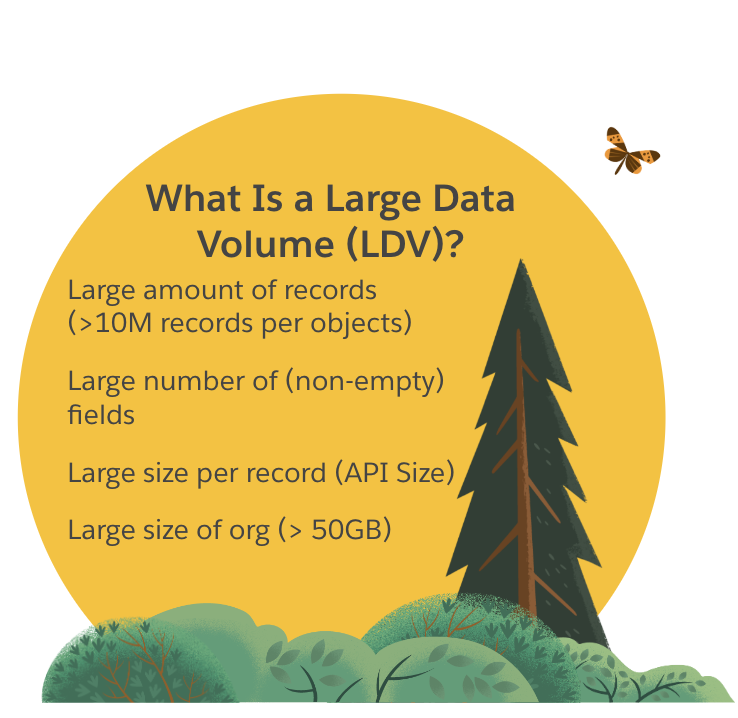 How do Large Data Volumes impact system performance?
When an organization accumulates data over many years, many custom objects and fields pile up. This leads to a very complex data model and impacts system performance, ranging from slowing down processes to complicating parent-child relationships, which can directly impact customers.
The top 10 considerations for a Large Data Volume backup and restore solution on Salesforce
Francois explained during the session that there are certain considerations enterprises dealing with Large Data Volumes must factor in when choosing a backup and restore solution. They are:
1. Enterprise-grade security
All your data is on Salesforce. When you assign data backup responsibilities to a company specializing in data backup, all your data will move to that company.
That's a big responsibility. You must ensure that your Salesforce data protection provider manages your data with the same level of security as you have on Salesforce. If the data that's stored in Salesforce is encrypted at a granular level, the backup vendor should be able to reproduce the exact same encrypted data. 
You also want to be able to Bring Your Own Key (BYOK). Every encryption should be done on your own and with the keys you own so that you are sure you are the only person who can access your data.
2. Be Restore Ready
Data complexity can make restoration harder. It can slow down the restoration process, or even block the restoration process.
Once you deploy a solution, test the restoration process to identify bottlenecks and to look for ways to improve the process. Don't wait for an accident to happen to realize you can't restore your mission-critical data – identify roadblocks early so you can resolve them before you need to restore them.
Odaseva provides a comprehensive list of auditing tools to identify potential roadblocks.
3. Backup EVERYTHING
If you don't backup, you cannot restore.
While you want to make sure that you can backup your data, metadata, and files, you also need to make sure that your backup strategy aligns with your data model strategy.
For example, if you're creating a new object which has new fields, you should be able to add the fields automatically to your backup and not have to do it manually.
When working with a vendor, be sure to check what objects are supported or not supported by the backup solution.
4. Don't miss a change
You should be able to decide what your threshold for losing data is. How many minutes or hours worth of data are you okay with losing?
If you do a daily backup, you risk losing up to 24 hours of data.
Every incident is different. For some businesses, it's okay to lose a certain amount of data. For some, it's not. This becomes more complex when there are Large Data Volumes involved. 
Recovery Point Objective (RPO) is the amount of time for which an organization can tolerate data loss before it disrupts business continuity. 
Odaseva provides the best RPO on the market down to 15mn.
5. Fast Backup, Fast Restore
You need to be able to extract a huge amount of data at scale.
For this, you have to set it on the Salesforce API. But the Salesforce API has a certain limit, and there's a certain threshold of data you can extract.
At Odaseva, we have many years of Salesforce enterprise data expertise, so we designed and built a strategy to extract data faster and more efficiently. By parallelizing processes, by creating our own API over the Salesforce API, we can optimize based on the size of the object and the record, and use exactly the right tools to extract faster and more efficiently.
6. Infinite Restore Options
There might be instances when you would need to restore data. But the truth is, your data model is evolving all the time. What that means is that the backup that you did in August, may be completely different from the data that you now want to use in September. Your data model may have changed completely. And your backup may not be compatible with your new data model. This is why you need to have a platform that is compatible, one that allows you to modify your backup on the fly so that it is compatible with your new data model.
Odaseva's expertise in Org migration and Org split allows multiple ways to restore data. 
Unlike an application approach where you would need to perform tasks in a certain way which may or may not yield the desired result for data restore, Odaseva follows the platform approach which gives you the flexibility to customize the steps involved in the restore process. Our solutions to prioritize the platform allows you to modify your backup to make it compatible with your existing data model so that you can restore every record and data seamlessly.
7. Increase Backup ROI
There's more to backup than just backup.
It's also about protecting your data: it's about sandbox anonymization of data and about preserving data confidentiality in your full sandbox.
Salesforce Sandbox Seeding makes it possible to seed every developer sandbox with the exact data they need while preserving sensitive data confidentiality.
While backup solutions from competition are GDPR compliant, Odaseva offers tools that not only provide backup solutions that are GDPR compliant, but also make your Salesforce data compliant with CCPA, GDPR, and other regulations.
You may want to share data from Salesforce to another cloud with your partners in the AI and BI departments. Since you already have a solution to extract your information, you now also have the potential to reuse this information everywhere else. When the data extracted can be leveraged by others in the organization, the result is an organization that works like a well-oiled machine.
The data automation tools allow you to move data so that you have the right data in the right place when you need it, without compromising security.
Remember that when you're an organization dealing with Large Data Volumes, you need to look at it from a holistic perspective: data masking, sandbox seeding, data automation and more, all need to be designed with Large Data Volumes in mind. And this is because, at some point, you might have to extract data and load it into another environment. Depending on where you are extracting it from, the data will have its unique characteristics, for which you will need a platform that offers solutions designed specifically for your needs.
8. Smart Analytics
You want to protect your data. You are doing your backup, you have a restore strategy in place, you have all your systems in place, and everything is functioning like clockwork. But keep an eye on your data at all times.
You are responsible for your Salesforce data. Be in control of what's happening to your data. You want to see if you are using the right amount of API. You should be able to monitor Salesforce activity and forecast Salesforce Governor Limits. If there is any unusual data movement at any point in time, there should be a system in place for you to get alerts about it so that you can take action if required.
9. Storage choice
Storage is where you are going to store all your backup data. This is critical because you want to make sure that you are comfortable with where you store your data on the public cloud: for example, is it going to be BYOS (Bring Your Own Storage), is it Azure? Is it AWS?
You need to be comfortable with the region you store your data in; you may want all your data to stay in a specific country and never leave the country. Or you may want to host the data yourself.
Whatever you choose to do, Odaseva is the right platform for you. One of the latest features that we offer, BYOS, is to allow our customers to extract all the data and store it in a public cloud at any point of time while keeping all the features of Odaseva intact. Thanks to the granular encryption, data never leaves the region.
10. Undo changes in 1 click with Odaseva Undo
Don't forget the end-user. Odaseva Undo is about bringing backup capabilities to the end-users. Should the sales representative, the customer service representative, or the people who use the application every day ever want to revert to the previous version of the record they were working on, all it takes is the click of a button to undo the changes. This is something they can do themselves without the help of the admin or any third party.
As an end-user, they will be able to see the changes in their record, see if anyone made any changes to the record, and roll back to the previous version of the record with Odaseva Undo.
All data stays safe and entirely within the Salesforce environment, maintaining every level of security and respecting record visibility.
Michelin's experience managing LDV challenges with the help of Odaseva
Michelin gave a shout-out to Odaseva for their backup and restore expertise, with a special mention about Odaseva's BYOK and Residency-as-a-Service capabilities.
Deema Rahim, Global Chief Technology Officer (CRM), Michelin, said, "Backup with Odaseva is easy to do because, with the support of the Odaseva team, we are able to get all the auditing done. Odaseva's Residency-as-a-service helps us operate under local regulations, especially in countries like China, where the data in China has to remain in China."
Odaseva is the enterprise data protection platform of choice for some of the world's largest organizations, including Fortune 500 companies. With 10+ years of experience managing Large Data Volumes across industries and countries around the world, our expertise and specialization in Large Date Volumes reaches 98+ million Salesforce users. 
Thank you for a wonderful Dreamforce 2022!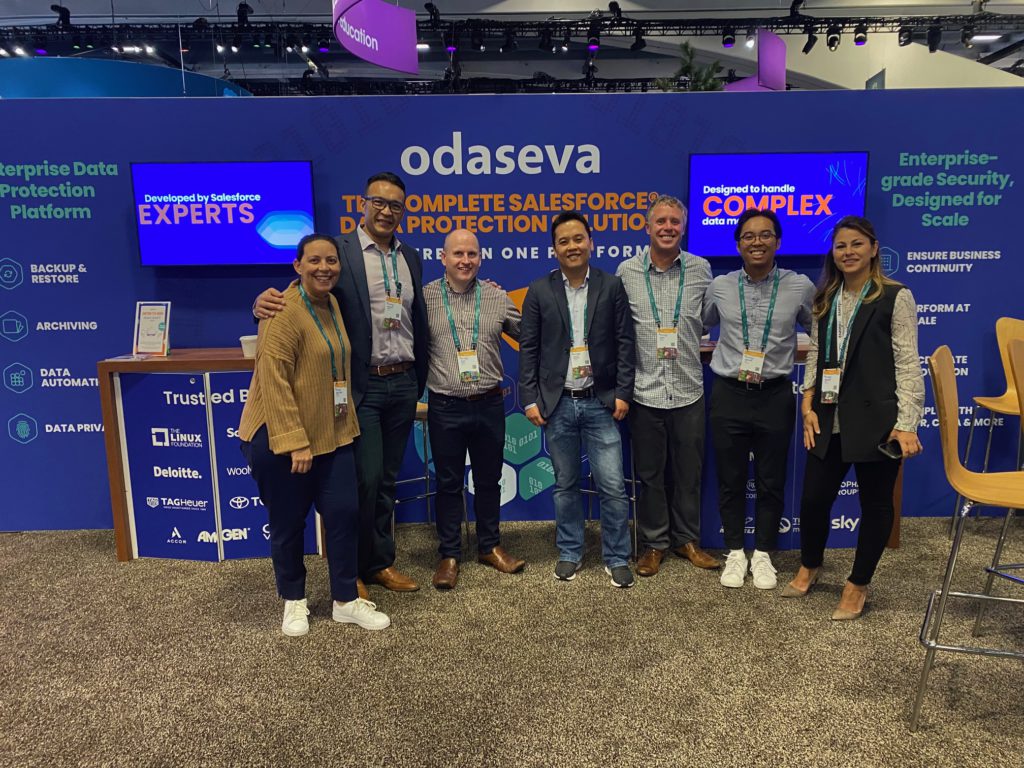 We would like to thank our customers and partners for yet another wonderful Dreamforce this year. Can't wait to see you again at Dreamforce 2023!