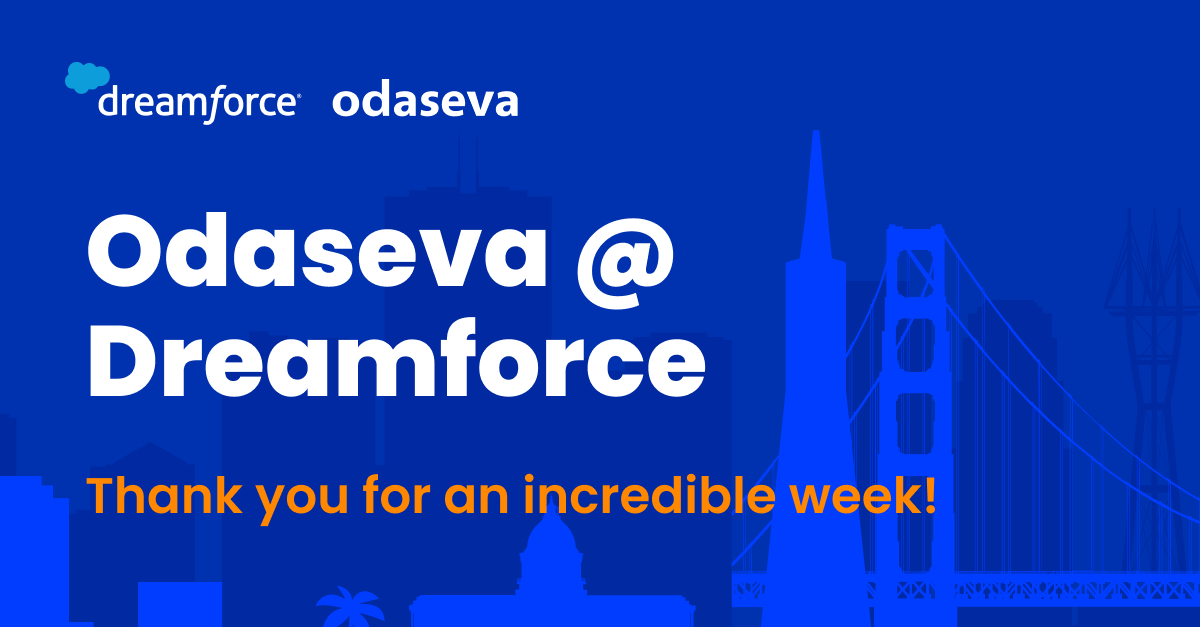 What. A. Dreamforce!
We hope your week in San Francisco was as eventful as Odaseva's! It was wonderful to meet everyone who stopped by our booth, watched our speaking sessions, attended our Lunch & Learns and Coffee Connects, and of course our jam-packed Happy Hour.
Here are some highlights from Odaseva's Dreamforce week:
Exciting product announcements
We announced several new products and powerful enhancements to existing products, including:
Backup for End-Users for Salesforce Government Cloud Plus: allows easy data restoration to undo mistakes
Odaseva Gateway for Government Cloud Plus: provides end-to-end encryption
Backup and Restore with 5 minute Recovery Point Objective (RPO): supports the most demanding Salesforce backup and restore use cases
Odaseva Data Archive Viewer: view archived objects natively in Salesforce
Learn more about these in our recent press releases:
Odaseva's VP of Engineering on stage with the Foo Fighters at Dreamfest
What happens when you combine Dreamfest, Odaseva, and the member of a Foo Fighters tribute band?
One of the most iconic moments in Dreamfest history!
The Foo Fighters invited Odaseva's VP of Product Engineering, Raphaël Fonrouge up on stage during Dreamfest to close out "Everlong," one of their top songs!
Raph has been in a Foo Fighters tribute band in Paris for years, and it was one of his life's dreams to play with them. Thanks in part to Salesforce, that dream came true!
Watch the video here.
Oh and Salesforce Ben stopped by our meeting space on Thursday and posted a photo with Raph in his Day 3 roundup here!
Food and drinks and friends at our Happy Hour
We hosted Happy Hour at Local Edition and it was a blast. There was a full house of Dreamforce attendees snacking, sipping cocktails, and socializing.
Sessions featuring Odaseva's Salesforce data experts
Our Tuesday session was "Mastering Data Security: Insights from AAA Customer Use Case" featuring:
Sovan Bin, Odaseva CEO
Lynn Krause, Odaseva Global Director Customer Success
Vincent Blansaer, AAA (Auto Club Enterprises) Application Development Manager
And our Thursday session was "Keep Less to Grow More by Archiving" featuring Carl Brundage, Principal Architect at Odaseva.
Both were a huge success, thank you to all who attended!
The Odaseva booth at Moscone South
It was wonderful to meet so many new and familiar faces at Booth 1503. If you stopped by, you caught a sneak peak of our new video featuring Michelin! Stay tuned for the full version soon.
Co-sponsors of Ladies Be Architects Scholarship Program
We were incredibly excited to announce that Odaseva is a proud co-sponsor of the Ladies Be Architects Scholarship Program! The program's vision is to remove financial barriers that inhibit women and nonbinary folks in achieving their Salesforce architecture career goals. You can learn more about the program here.
Emily (Hay) McCowan, CTA and Lead Technical Architect & Public Sector Solutions Practice Lead at Mav3rik, gave a speech at the Odaseva Happy Hour about the program and sponsorship.
An exciting new partnership with Copado
Another exciting announcement was our integration with Copado! Customers can deploy in confidence with complete restore capabilities – on data with Odaseva, and metadata with Copado.
Odaseva and Copado had a joint booth at Hotel Zetta during Dreamforce week. Thank you to all who stopped by!
Lunch N' Learns
We hosted two Lunch N' Learns over at Spaces:
Architecting a Multi-Org Strategy for Compliance, Residency, and Collaboration with Salesforce & Capgemini featuring:
Rachel Beard, Distinguished Security Technical Architect, Salesforce
Christopher Ramm, Salesforce CTO Germany, Capgemini
Vincent Delamarre, Chief Growth Officer and Co-Founder, Odaseva
How the Volkswagen Group Accelerates Business Continuity & Compliance, featuring:
Christian Schmidt, Information Technology Solutions Architect, Volkswagen AG
Harold Lopez, Senior Director, Customer Success Group EMEA, Odaseva
Coffee Connects
… and three Coffee Connects!
Path to CTA Excellence – Preparing, Achieving & Beyond, featuring:
Olivier Rachon, VP Expert Services, Odaseva
Ozgur Gurkan, VP, Distinguished Architect, Odaseva
What's New and What's Next on the Odaseva Product Roadmap, featuring Francois Lopitaux, Chief Product Officer at Odaseva
And last but not least:
Taking Data Security to the Next Level with the Odaseva Security Team, featuring:
Vincent Delamarre, Chief Growth Officer and Co-Founder, Odaseva
Mynoi Keonakhone, Director, Security and Privacy, Odaseva
Thank you again to all who helped make Dreamforce a huge success all around!
Ready for more Odaseva? Of course you are, so don't forget to save the date for the upcoming 3rd Data Innovation Forum for Salesforce Architects on October 25-26th. You'll join an audience of other Salesforce data professionals to learn about today's enterprise Salesforce data management challenges and solutions – directly from the experts themselves. Learn more here.